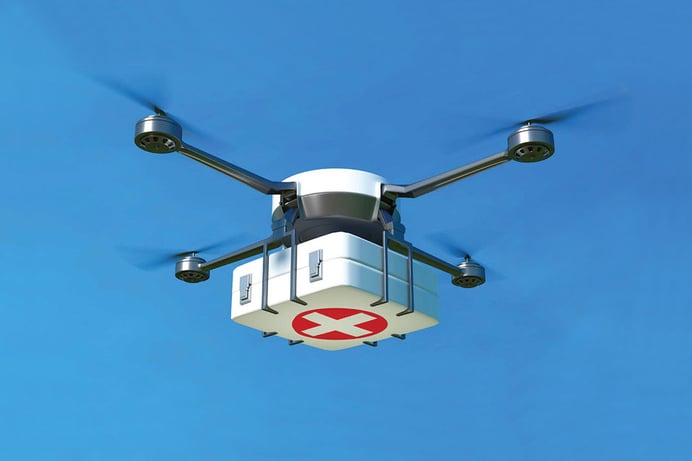 What is a drone?
An Unmanned aerial vehicle / Uncrewed aerial vehicle - (UAV).
Commonly known as drones, these aircraft lack the need to be flown by a pilot and are some of the best examples of cutting-edge technology.
When there is a need to make things better, increasing morale, and exponential growth in awareness, unbelievable things can happen. Using technology with its endless possibilities for good has resulted in some of the biggest accomplishments humanity has ever achieved.
These little high-end tech flying machines are capable of flying up to 75 miles, without the need for a recharge. Some of the characteristics of drones are long-distance, high speed, small size, and decent payload. From delivering packages, agricultural activities, film making, to elevating productivity and efficiency - drones have been integrated into a lot of our regular activities.
Even though humanity has been able to develop and strengthen processes and skills to provide care, these might not be enough to face the unpredictable. The healthcare system reaches limitations. Is it possible to foresee accidents, catastrophes, melt-downs, heart attacks?
Sometimes it's not.
Luckily, the endeavors of scientists made it possible to diminish the consequences by developing these drones that can easily transport blood supplies, assist with communications, carry defibrillators, and more. Nowadays drones help to enable the transportation of food and medical supplies to areas hit by disaster, but possibilities extend to providing meals to people that can't prepare their own, keeping tabs on a patient living at home with dementia, and even exceptional situations such as someone has had a heart attack and by using his phone, sets the drone ready to assist in speed that can't be compared.
By shortening the time since the breakdown happens till the medical assistance is given, the statistics for survival increase significantly.
A drone arrives and a doctor through a phone guides a friend, family, or bystander step by step in how to use a defibrillator and save a life. Might sound miraculous, but is very much possible using current technology.
These are just a few of the tons of situations that can be intervened and converted into living proof of tech capabilities, using drone applications. These artificial intelligence-aided air vehicles appear as the answer to human limitations; reducing time-consuming tasks, speeding up and boosting logistic transportations, accelerating processes, reducing variability, cost and error.
When technology is used with the right purpose the world can be shifted into a reality where people and health is what matters and determines the decisions in the world.
Let Agnos help you with your digital transformation.