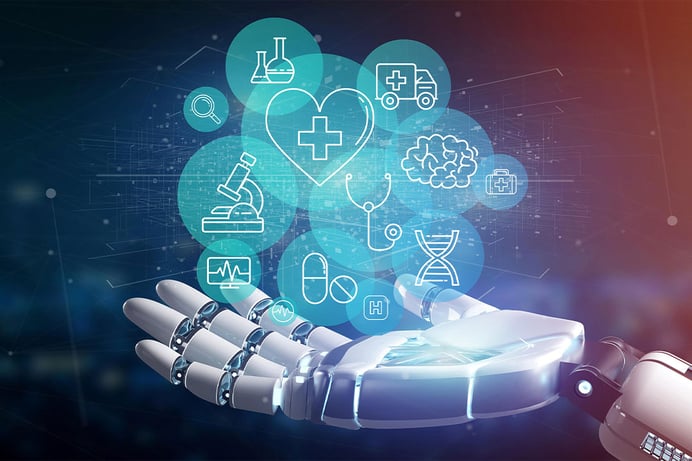 The AI health market is witnessing explosive growth. A survey by Gartner shows that 38 percent of healthcare providers rely on computer-assisted diagnostics. The global market size for AI in healthcare is expected to be more than 28 billion U.S. dollars by 2025. Undoubtedly, AI is transforming many industries, however, in healthcare, the impact of AI is truly life-changing.
AI is transforming how the healthcare sector works and is likely to break the iron triangle in healthcare, making access, affordability, and effectiveness no longer the competing priorities. With an immense potential to improve costs, deliver operational efficiencies, prevent frauds, ensure superior quality, offer analytical capabilities, and expand patient reach; AI can be truly transformative.
With the help of some powerful examples, let's try to understand the value that healthcare has realized as a result of the application of AI:
Automated Operations, Precision Surgery, and Preventive Intervention: Bernard Marr in his 2018 article in Forbes quotes researches that indicate how AI-assisted robotic surgery can be minimally invasive, can result in fewer complications during surgery, and decrease patient's stay-time at the hospital helping in easier recovery. Fraud detection and connected healthcare systems are some other applications of AI ensuring effective operations, better treatment, and more accurate diagnosis.
Preliminary Diagnosis: A recent report found that medical errors were the third leading cause of death in the US. Digital health can drastically improve patient experience with better diagnosis, rapid return of test results; enhanced clinician collaboration; improved workflow; and a more patient-centered approach to care. According to tests conducted by a Danish AI software company and Baidu Research, AI and deep learning algorithms outperformed humans in terms of both accuracy and time in the detection of cardiac arrests and cancer, directly increasing the efficiency of service, and opening up areas for further research and development. In addition, AI is a blessing for people with low access to healthcare services.
Virtual Nursing Assistants: A major benefit of automation in healthcare, especially in the context of nursing is round-the-clock service, which is insusceptible to drawbacks leading to reduced efficiency such as boredom and fatigue experienced by humans. Patients can now use AI-based devices that allow them to even be monitored from home and be alerted when something goes off-track, saving them unnecessary check-ups and visits to the hospital.
Image Analysis and Remote Access: A shortage of trained healthcare providers, including technicians and radiologists can significantly limit access to life-saving care in various regions of the world. Automation in healthcare allows these healthcare providers to branch out even to regions where hospitals are not physically accessible to the population. The use of AI in analyzing images to diagnose diseases is being worked upon at present, which may allow people in remote locations without access to other forms of healthcare to be diagnosed and consulted simply through images and descriptions of their diseases. This capability could be deployed through an app to providers in low-resource areas.
Automation and Administrative efficiency: Apart from directly aiding medical processes, AI can be used to automate the less rewarding repetitive jobs in a hospital allowing humans to work in areas where their productivity could be higher or cannot be completely substituted. This minimizes the need for messy manual work and reduces the probability of error.
Although the initial investment in order to revolutionize healthcare by the introduction of automation is high, in the long run, this will eventually lead to decreased costs in terms of salaries and increased efficiency of services, also allowing for the increasing healthcare demand to be met aptly.
To conclude, in a world where technology is evolving rapidly, outperforming the current level of proficiency achieved by the human workforce, the application of AI to healthcare is truly a wise option for the larger benefit of society.
Are you ready to harness the power of AI disruption?
In this era of Digital Darwinism, becoming an AI-fueled organization is likely to be more than a strategy for success - it may very well be a necessity for survival. If you're unsure of what AI trends offer, or requires of your organization, connect with Agnos today to take things further.
Agnos is a global technology consulting and software development firm that believes in 'profit with a purpose'. Let me help you know more about us:
Value Proposition: Our hand-picked teams of professionals possess the best combination of skills in project management, code development, UI/UX design, web & mobile app design & strategy, quality assurance, and various other verticals at affordable prices.
Competitive Differentiation: Our global team of technologists and consultants is simply the "best" at what they do. Through our global partnerships, we now have an army of over 20,000 (our bench) worldwide, from the United States to Argentina to India to Ukraine and beyond. We can truly offer a "follow the sun" software engineering delivery platform.
Core Values: Agility, Trust, and Quality. As our customers will attest, we are obsessed with relentlessly pursuing the projects we undertake in a timely fashion while maintaining the highest quality standards and keeping the trust of our customers, employees, and partners.
Do you plan to leverage AI for your healthcare business operations? Let Agnos help you on your journey!