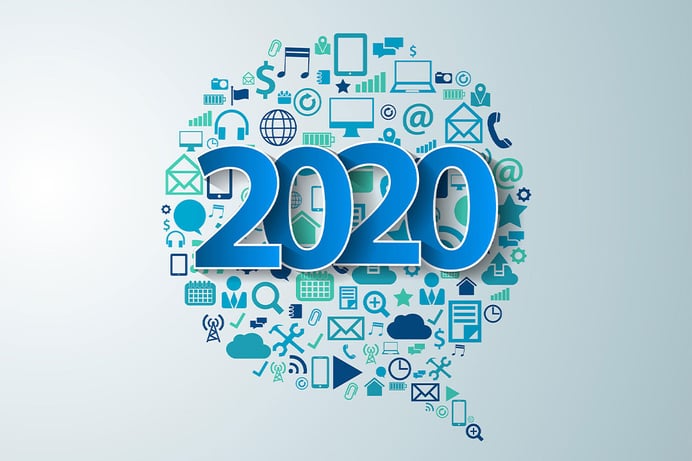 Seismic shifts are occurring across the business and consumer landscape driving disruption and creating new opportunities in the market. The next year, Gartner reports, will be defined by the idea of "people-centric smart spaces," which will have "a profound impact on the people and the spaces they inhabit," said Brian Burke, Gartner Research VP at Gartner 2019 IT Symposium/Xpo™ in Orlando, Florida. "
In essence, technology trends in the future cannot be considered in the absence of business and human context. Let's understand the top 12 trends that are likely to unsettle the market for years to come.
Hyperautomation: Gartner named hyper-automation as its #1 strategic technology trend for 2020. Hyperautomation is the application of advanced technologies like Robotic Process Automation (RPA), AI, and ML to augment workers and automate processes. This involves rapidly identifying and automating all possible business processes thus saving human capital, improving precision, and eliminating tedious and perilous human jobs. In the near future, Hyperautomation will be key to scaling complex automation across the enterprise with speed and efficiency.
Internet of Things (IoT): A report by Fortune Business Insights states that the global market for IoT is expected to reach $1.11 trillion by 2026. Skills in automation, cloud computing, data analytics, and an understanding of embedded systems will be in high demand. Soon, with IoT, all the devices we own will be able to communicate with each other, and the connected machinery will be capable of reporting specifics of its operating parameters and efficiency to other smart, connected devices. This will enable better safety, efficiency, and decision-making for businesses, and will assist in predictive maintenance, speeding up medical care, improving customer service, and benefits we haven't imagined as yet.
5G Network: 5G is expected to soon hit the ground offering faster speed, reduced delays and glitches, and increased connectivity. With a large number of connected devices expected to be in use by 2020, the 5G network will become a necessity. By 2024, 5G networks will carry 35% of mobile data globally. For 5G, an understanding of technologies like LTE, advanced pro, mobile edge computing, C-RAN, Massive MIMO, SDN, network slicing, mesh networks, and HetNet will be required. Analysts estimate that 5G technologies can support 22 million jobs globally in 2035.
Blockchain: Blockchain can be described as a tamper-evident distributed ledger that has diverse uses for businesses across industries with typical applicability to the supply chain, real estate asset management, and healthcare data management. Blockchain enables trusted private transactions with the necessary data confidentiality, offering transparency, and enabling value exchange across business ecosystems at lower transaction time and potentially lower costs. Global blockchain technology revenues are expected to experience enormous growth in the coming years, with the market likely to rise to over 23.3 billion U.S. dollars in size by 2023.
Progressive Web Apps (PWA): Many businesses are already using PWAs instead of developing a mobile version of a website. PWAs are easier to create and maintain than native apps and are built around common web technologies including HTML, CSS, and JavaScript, offering immersive user experiences, and enhanced user engagement and conversion rates at a lower cost. Titans like Forbes and Alibaba have already adopted PWAs, and Gartner predicts that PWAs will replace 50% of mobile apps by 2020.
Human Augmentation: This refers to enhanced cognitive and physical experiences using technology. Physical capability can be drastically enhanced by embedding or hosting a technology within or on the body, and cognitive augmentation can enhance the human ability to think and make better decisions. Wearable and other technologies may help humans perform superhuman activities by enhancing the skills they already have. Ethical use of these technologies does pose a question, however, there are scenarios that could happen in the near future leading to the end of disability, flawless memory, and so on.
Mixed Reality: Statista indicates that AR & VR market size worldwide is estimated to reach US $180 billion by 2023. Constant improvement in VR and AR is creating new opportunities. VR & AR have enormous potential in training, entertainment, marketing, construction, and automobile design, education, and health, and are ready for mass adoption. Top brands like Ford, Volvo, Deloitte, etc. are using mixed reality to offer delightful CX to their customers and enhance their processes to achieve brilliance.
Distributed Cloud: A new era of cloud computing is emerging and the distributed cloud is all about location. In a distributed cloud, the cloud service provider can offer and manage a company's information through its cloud services in the company's data center. It refers to having the computation, storage, and networking in a micro-cloud located outside the centralized cloud solving problems around data residency and offering reduced latency benefits. The distributed cloud is also evolving as a prototype well-equipped with technologies to support a broad range of mobile services.
Edge Computing: As compared to the centralized model, edge computing architectures bring data closer to the devices that process the data, and computing happens at the edge of the network. Cell phone towers, routers, and WiFi are some of the edge access points. Edge access points have a clear advantage where connectivity to a centralized location is weak, and for processing data that is time-sensitive. Statista reveals that the edge computing global market is projected to rise about 28 times from 2018 to 2025. With IoT device proliferation, edge architecture will remain quite helpful for many users.
Programming Trends: As technology is advancing, new programming languages and frameworks are being launched. According to Github, Javascript and PHP are still the most used programming languages along with Python, which is used for AI and ML development. For 2020, the most popular tech skills that the IT workforce should look forward to will include the use of Python, React, Angular, ML algorithms and models, Docker, Django, React Native, Amazon AWS, and deep learning.
Cybersecurity: For the coming years, cybersecurity spending is expected to continue to rise with cyber-attacks becoming more persistent and complex. Large-scale data breaches, hacking, phishing, ransomware, nefarious use of AI to attack enterprises, and more, emphasizes the strong need for cybersecurity professionals and the continuous evolution of cybersecurity as a technology. Organizations are likely to seek out AI/ML capabilities to automate security processes. According to Capgemini, 63% of organizations are planning to employ AI by 2020, and the #1 application of AI in cybersecurity was found to be network security.
Outsourcing: Technavio analysts, based on their latest market research report, forecast the global IT outsourcing market to grow at a CAGR of over 4% during 2019-2023. The prominent factor behind outsourcing is the need to optimize business processes. Cost reductions, capacity optimization, and enhanced ROI are fueling the growth of this market. With IT outsourcing, cloud computing services and software as a service are also growing in popularity and scope, offering technology and software at a cost that would have otherwise been quite expensive.
So, which is the trend that you care about most? What is the Next Big thing that your business needs?
It's the right time to pause and think, and to get in touch with the technology consultants at Agnos who can carefully analyze your existing business processes and offer you the right technology solutions to be future-ready.
Learn about the work we do for the healthcare industry to radically transform the way care is delivered and administered at Physician Practices and Accountable Care Organizations across the United States.
With Agnos, reinvent for effectiveness, innovation, and disruption!