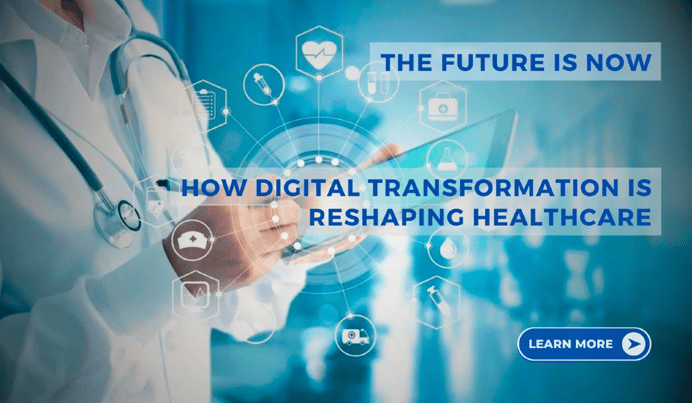 In an era where digital transformation has reshaped almost all industries, it's surprising that healthcare has yet to fully embrace this revolution. Indubitably, the potential for digital transformation in healthcare is immense, driven by cutting-edge technologies like Artificial Intelligence (AI)-enabled medical devices, telemedicine, and Electronic Health Records (EHRs).
Did you know that the global digital transformation in the healthcare market is estimated at US $65.2 Billion in 2023. The market is projected to reach US $ 253.6 billion by 2033, exhibiting a CAGR of 14.5% from 2023 to 2033. So, where does your organization stand? Are you still on the fence, or are you ready to adapt to the new technological environment? With years of experience in healthcare custom software development services, we at Agnos can help you build innovative healthcare solutions using cutting-edge technologies and the latest advances in healthcare IT. The integration of AI-powered medical devices, telemedicine, and EHR is on the horizon. The convergence of patient needs, burgeoning expectations, and a demand for quality care necessitate the imminent adoption of digital transformation.
Let's observe some of the current healthcare market trends:
On-Demand Healthcare
On-demand healthcare is rapidly gaining traction. Mobile platforms facilitate doctor searches, appointment bookings, and a deeper engagement with healthcare. This increased access to point-of-care tools enables better clinical decision-making and improved patient outcomes.
Shifting Patient Dynamics
Patients empowered by the rise of digital technologies are becoming active decision-makers in their medical care process and are more likely to switch providers if expectations aren't met. To cater to these changing dynamics, digital health systems must offer online scheduling, real-time test results, automated reminders, and user-friendly interfaces.
Big Data for Better Healthcare
Big Data can significantly reduce medical errors, enhance preventive care, and even predict admission rates to ensure adequate staffing. Purposeful use of collected data can proactively address health challenges and optimize resource allocation.
The Rise of Transformative Technologies
Virtual Reality (VR) is redefining pain management and treatment approaches. Wearable medical devices, from heart rate sensors to exercise trackers, are gaining momentum, empowering patients to proactively manage their health. The global wearable medical devices market size was USD 29.76 billion in 2019 and is projected to reach USD 195.57 billion by 2027, exhibiting a CAGR of 26.4% during the forecast period.
Artificial Intelligence: The Catalyst for Precision Healthcare
With an immense potential to improve costs, deliver operational efficiencies, prevent frauds, ensure superior quality, offer analytical capabilities and expand patient reach, AI can be truly transformative. From assisting nurses to diagnosing conditions, AI holds immense promise in precision medicine, medical imaging, drug discovery, and genomics.
Blockchain and the Future of Health Records
Blockchain's potential in healthcare is epitomized by its role in Electronic Health Records (EHR). This technology ensures secure, accurate, and accessible patient information, proving invaluable in emergencies.
Overall, digital transformation is an ongoing process and new trends are emerging in the healthcare industry with each passing day. So where do you intend to begin? With all this information, do you feel ready to now embark on this transformational Journey? If yes, it's important to realize that digital health transformation isn't a one-size-fits-all approach. It's important for each healthcare provider to choose the right technologies catered to their specific organizational needs, and though, the initial investments may appear on the higher side, the long-term benefits in cost reduction, better patient care, and increased profits are compelling.
Embrace the digital revolution and partner with us to usher in a new era of healthcare innovation. With technology as our guide, Agnos is poised to help you reshape the future of healthcare, delivering unparalleled experiences and outcomes.