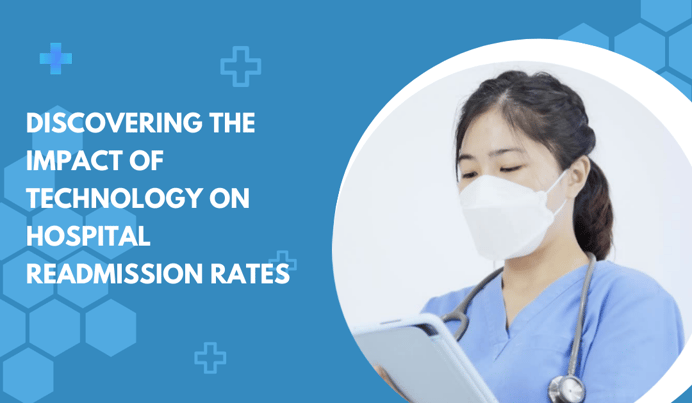 Did you know that in 2021, Medicare decided to reduce payments to 2,499 hospitals - 47% of all facilities - due to excessive readmissions, with projected penalties costing $521 million?
A focus on reducing hospital readmission rates can yield numerous potential benefits, both for the hospitals and the patients.
Readmission correlates with an increased risk of negative health outcomes, including increased patient stress and high mortality rates. Conversely, better-coordinated care, patient engagement, and proper communication lead to patients having a better understanding of their conditions and treatment plans. This means overall enhanced patient satisfaction with patients being more aware of their situation. And for hospitals, this would mean that they can avoid penalties and dedicate resources to improve their equipment supplies, facilities, and staffing.
With the continuous advancements in technology, leveraging healthcare IT can offer significant benefits in improving care coordination, patient engagement, and overall healthcare outcomes. And hence, healthcare providers are increasingly turning to healthcare IT solutions to address the challenge of reducing Medicare readmissions.
In this blog post, we will make an effort to understand the impact of technology and its potential to drive positive change in healthcare delivery.
The Impact of Electronic Health Records (EHR):
Electronic Health Records have become an integral part of healthcare organizations, enabling improved data management and communication. As of 2021, nearly 4 in 5 office-based physicians (78%) and nearly all non-federal acute care hospitals (96%) adopted a certified EHR according to a survey by the Office of the National Coordinator for Health Information Technology (ONC. This marks substantial 10-year progress since 2011 when 28% of hospitals and 34% of physicians had adopted an EHR.
Adoption of EHRs also impacts the Readmission Rates. A study published in the Journal of the American Medical Informatics Association found that hospitals with advanced EHR capabilities had lower readmission rates compared to those with basic EHR functionalities. However, despite widespread adoption, interoperability still remains a significant challenge in EHR systems. The ability to exchange patient information seamlessly across different healthcare settings is crucial for reducing readmissions. Efforts are underway to improve interoperability standards and promote data exchange.
At Agnos, we have extensive experience with FHIR and also HL7 v2, integration with Epic / Cerner, and CMS Blue Button 2.0. Our global software engineering team is focused on healthcare and helps our clients (e.g.healthcare providers, healthcare payors, and healthcare software companies) build applications powered by FHIR that integrate with any EMR or payor system to create a more seamless patient/provider journey/experience.
Telehealth and Remote Monitoring:
Telehealth and remote monitoring technologies have witnessed substantial growth, particularly during the COVID-19 pandemic. The telemedicine market in the U.S. was forecast to grow to an estimated 35 billion dollars by 2025. This trend indicates a significant increase from previous years.
Technologies like Remote patient monitoring (RPM) have proven effective in managing chronic conditions and reducing hospital readmissions. A study published in the Journal of Medical Internet Research showed that RPM interventions resulted in a 51% reduction in hospital readmissions for heart failure patients. This is a huge success and the adoption of telehealth and remote monitoring is getting a further boost as CMS has expanded telehealth reimbursement policies and relaxed regulatory barriers to promote virtual care delivery. These changes have facilitated the adoption of telehealth and remote monitoring, allowing for improved patient access and continuity of care.
Health Information Exchange (HIE):
Health Information Exchange (HIE) is a secure central repository of patient data aggregated across multiple facilities and EHR systems. The aim is to offer a holistic view of the patient's electronic health record through a secure, standardized system
A study published in the Journal of the American Medical Association found that hospitals participating in HIE networks had a 10% greater reduction in readmission rates compared to non-participating hospitals. Overall, HIEs reduce the amount of time spent by patients completing paperwork and explaining to their providers their medical history. By saving time for patients and providers along the continuum of healthcare delivery, HIEs can lead to both reduced costs and improved health outcomes. This highlights the relevance of HIEs in improving care coordination and reducing readmissions.
With an aim to establish a secure and interoperable nationwide health information exchange network, the ONC has been driving efforts through initiatives such as the Trusted Exchange Framework and Common Agreement (TEFCA). The emergence of Fast Healthcare Interoperability Resources (FHIR) and application programming interfaces (APIs) has made HIE more flexible and efficient in data exchange. These advancements facilitate the secure and real-time sharing of patient information across different healthcare organizations leading to improved continuity of care and better decision-making.
Conclusion:
Healthcare IT solutions, including Electronic Health Records, telehealth, remote monitoring, and Health Information Exchange, have shown great promise in reducing Medicare readmissions. By leveraging these technologies effectively, healthcare providers can enhance care coordination, improve communication, and enable timely interventions. Investing in healthcare IT infrastructure and leveraging its capabilities aligns with the goal of improving patient outcomes, reducing readmission rates, and delivering high-quality care.