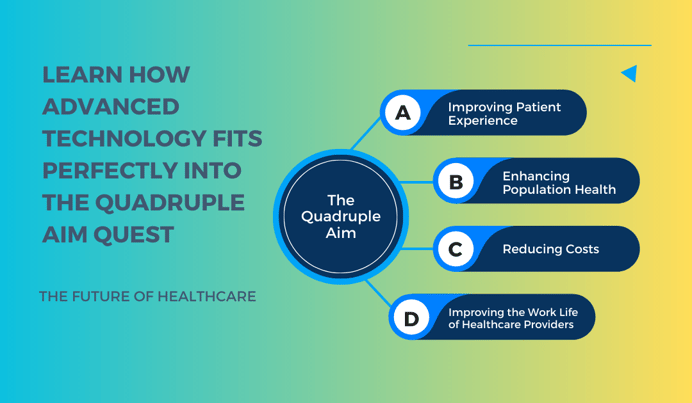 In this era of digital disruption, technology is expected to play an increasingly significant role in healthcare. Current technology trends highly influence what hospital systems are purchasing, and macro environmental trends affect how they make those purchases. The U.S. healthcare IT market is expected to register a CAGR of nearly 12.5% between 2021 and 2026. Hence, we can safely imply that technology will be pivotal in the pursuit of the Quadruple Aim, offering innovative solutions and transformative opportunities.
In this blog, we will explore how technology can be harnessed to achieve the Quadruple Aim and shape the future of healthcare, and how Agnos can be a guiding light in your journey to connected healthcare!
To offer an overview, the Quadruple Aim is a healthcare framework that expands upon the traditional 'Triple Aim' that mainly focused on improving patient experience, enhancing population health, and reducing healthcare costs. However, the quadruple aim also included a focus on improving the well-being of healthcare providers. Let's take a quick look at each of these.
Improving Patient Experience
Technology-led advancements have revolutionized patient experience by enhancing access to care, streamlining communication, and empowering patients to take an active role in their healthcare journey.
Let's see some examples:
a) Telehealth and Remote Patient Monitoring: Telehealth enables patients to access healthcare remotely, reducing cost, travel, and wait times, and remote monitoring devices allow continuous tracking of patient vitals, offering timely interventions and proactive care.
Learn how Agnos, with its expertise in the healthcare IT segment, helped one of its clients build a robust telemedicine platform enabling virtual consultations, thus allowing patients to connect with healthcare providers from the comfort of their homes. This reduced barriers to access, minimized travel time, and enhanced convenience for the patients.
b) Patient Portals and Mobile Apps: These tools empower patients by granting them access to their health records, offering appointment scheduling, medication reminders, and secure communication with healthcare providers, leading to better engagement and personalized care. Take a look at how

Agnos helped CareCloud

deliver an exceptional patient experience solution and also helped another client in bringing the clinic to the patient by helping manage Patient Intake, Healthcare Insurance Eligibility Checks, Healthcare Insurance Authorization for Treatment, Appointment Setting, and so on.
Enhancing Population Health
Technology offers exceptional opportunities to improve population health outcomes through data-driven insights, predictive analytics, and targeted interventions. Let's see how this can be achieved:
a) Electronic Health Records (EHRs): EHRs facilitate aggregated patient data that can be used to identify patterns, risk factors, and emerging health issues to inform preventive measures and public health strategies.
At Agnos, our software development efforts are focused on building EMRs with our clients, especially as it relates to virtual care. We have extensive experience with FHIR and also HL7 v2, integration with Epic / Cerner, and CMS Blue Button 2.0. Incorporating FHIR technology into your EMR systems could help your company improve its interoperability with other healthcare systems.
b) Big Data Analytics and Artificial Intelligence (AI): These technologies can analyze large datasets to identify trends, predict disease outbreaks, optimize resource allocation, and customize treatment plans based on patient-specific factors, leading to better health outcomes for populations.
Reducing Costs
As per Statista, the spending on healthcare in the United States is more than any other country. Annual health expenditures stood at over 4.2 trillion U.S. dollars in 2021, and personal health care expenditure equaled 10,784 U.S. dollars per resident. And hence, reducing costs has been the biggest challenge for the industry, and technology can play a significant role in addressing this challenge. Here are a few examples:
a) Workflow Optimization: By streamlining administrative tasks and optimizing clinical workflows, time spent on documentation can be drastically reduced leading to improved operational efficiency. This implies that healthcare providers can now focus more on direct patient care, leading to potential cost savings.
b) Health Information Exchange (HIE): Interoperable systems allow seamless sharing of patient information among healthcare providers, offering a single source of truth for the patient information thus reducing duplicate tests and associated costs; leading to better diagnosis and improved care coordination. Take a look at how Agnos can help facilitate seamless integration with HIE platforms, enabling secure and efficient sharing of patient information across healthcare providers
Improving the Work Life of Healthcare Providers
Healthcare organizations have made impressive progress by applying the Triple Aim approach, but now, it is time to add the fourth element- 'Improving the Work Life of Healthcare Providers.' Patients, being the center of the whole equation, have left healthcare providers vulnerable. Burnout among healthcare providers is a pressing issue that impacts patient care and healthcare system efficiency. Technology can, however, alleviate some of these burdens and enhance the work life of healthcare professionals.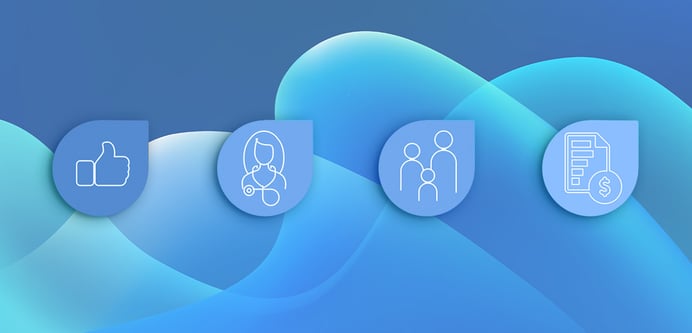 a) EHR Optimization: EHR optimization solutions can simplify documentation processes, reduce paperwork, and enhance usability. By streamlining workflows, providers can spend less time on administrative tasks and more time with patients, reducing burnout and improving job satisfaction.
Agnos can help organizations in their endeavor to achieve the Quadruple Aim by Streamlining workflows, reducing documentation burden, and incorporating intelligent features that can improve efficiency and reduce administrative tasks, allowing providers to focus on actual patient care.
b Decision Support Systems: AI-powered decision support systems can assist healthcare providers in making evidence-based treatment decisions, reducing medical errors, and enhancing clinical outcomes. At Agnos, we have experience integrating with e-prescription services where clinicians can view the medications e-prescribed to their patients through the EMR portal, know about the medication interactions and allergies, and accordingly generate prescriptions.
By partnering with Agnos, healthcare organizations can make significant progress in achieving the Quadruple Aim. Our dedicated focus and expertise in offering improved patient experience, better population health, cost reduction, and provider satisfaction aligns with the core principles of the Quadruple Aim, making us a valuable partner in shaping the future of healthcare!
Let's connect to discuss how Agnos can assist you!